In the fiercely competitive and rapidly growing market, Ford Figo was selected the Indian Car of the Year (ICOTY) 2011 on Thursday.
Now in its sixth year, the ICOTY is awarded to a new vehicle after comprehensive testing by a jury of leading automobile journalists in India.
Michael Boneham, president and managing director, Ford India, accepted the award from R P Singhania, vice chairman and managing director, JK Tyre & Industries, at a ceremony in Mumbai.
The Ford Figo is a celebration of the best-in-class features, style, comfort and ownership.
Robust build and construction
Interiors more comfortable than chief competitors i10 & Swift
1.4 Diesel's proven driveability and fuel efficiency. No turbolag
The Ford Figo's mature big-car-like ride quality
Ford's DNA in the on-road behaviour and quick steering
Class-topping 284 liter boot space
Lacks the modernity of recently launched hatchbacks
Both of the engines in the Figo are lacking in outright performance. Neither engine can exploit the car's dynamics
No true top-end variant (tilt adjustable steering, rear power windows, MID etc.)
Average backseat legroom. Not in the league of, say, an Indica Vista
Ford's sub-par dealership experience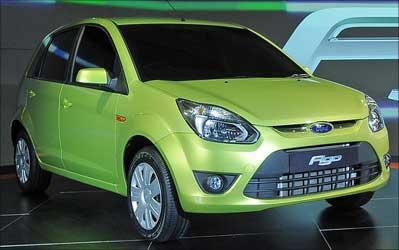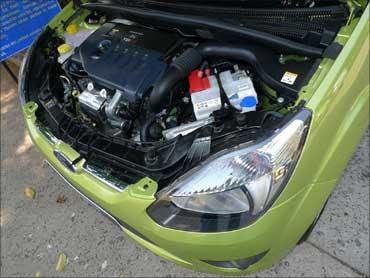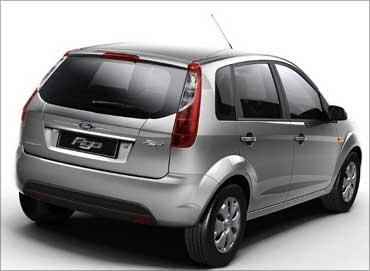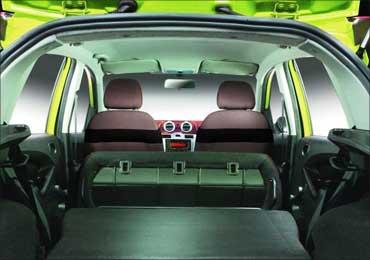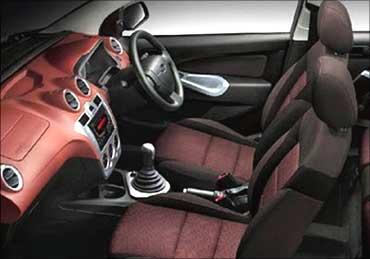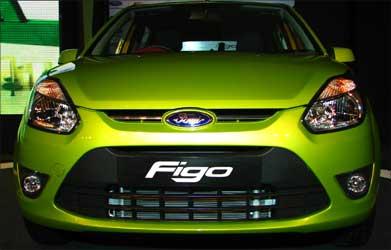 Dimensions
The Figo is one of the longest, widest and shortest in height in its segment. This contributes to the best aerodynamic design and its spacious interiors.
Overall length - 3795 mm
Overall width - 1680 mm
Overall Height - 1427 mm
Wheelbase
W
ith a 2489 mm wheelbase, the Figo clearly offers the most spacious interiors in its category.
Leg Room
Smart designing makes the Figo one of the most spacious cars available.
Front leg room - 1084 mm
Rear leg room - 860 mm
Rear shoulder room - 1300 mm
Boot space
T
he Figo has 284 litres of boot capacity - again, the largest among all hatchbacks.
Air-conditioning
The Figo boasts of the most powerful air conditioner in its segment.
With the largest compressor and the best air speed, the Ford Figo offers the fastest-in-class time to comfort.
Bluetooth
P
lug and unplug mobile phones to make and receive calls and hear the other person's voice over car speakers, access your complete phonebook on the audio unit without reaching for the phone, browse the last 10 dialed numbers, the last 10 missed and received calls, redial a particular number and swap, hold, mute and transfer calls from audio to phone.
Smart audio allows you to stream songs from mobile phones to the car audio via Bluetooth and enjoy music over the car speakers without transferring files.
Intelligent features
Programmable keyless entry
Intelligent safety locking features (central locking, drive away, crash unlock, ignition off auto unlock, and auto relock)
Distance to empty display
RDS capable audio
Speed sensing volume controls
Electric boot release
Lane change indication
Hazard deceleration warning
Variable (6 Speed) intermittent wipers
Intelligent PATS
Styling
T
he Figo is designed in line with Ford's Global Kinetic Design philosophy.
Streaky side repeater lamps, raising belt line, door lines, grille-less front, wide open trapezoidal lower grille, wrap-around head lamps and stylish tail lamps make it stamp a style statement.
Interiors:
The Figo sports a unique coral theme on the inside, along with colour coordinated instrument panels and stylized door boards with pull cup type handles.
Vibrant Instrument Panel:
The Figo is the first in its segment to make a style statement with colour infused vibrant interiors.
The coral Instrument panel makes for the most vibrant looking Interiors available in its segment.